So you have a beautiful back yard and a beautiful family. You have the elements already to turn your back yard into a smash hit all summer long while promoting outdoor living. The thing with beauty is that it can be just that, a back yard landscape should have some FUN and functionality to it. Whats missing is playtime activities. The rules are simple, inexpensive and must promote hours of enjoyment. You can tackle the project yourself or hire V.I.P. Home & Yard to install and speed up the process.
Give guests a buffet of playtime options and they will make your home the season's hottest destination.All it takes is a backyard filled with games suited to all ages and abilities, a place where family and friends can gather to face off—whether it be for an innocent competition or a heated grudge match. In other words: If you build it, they will come.
HORSE  SHOES
The satisfying clang of horseshoes wrapping around their target floats through the air on long summer afternoons, enticing adults and children alike to pick up the game. "Guests gravitate toward horseshoes because most people are familiar enough with the rules to play,The 6-inch-deep sand also draws them in, evoking a backyard beach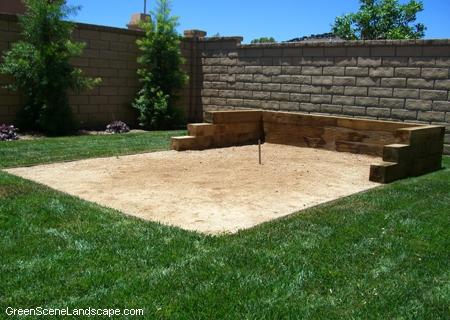 Croquet
A lush lawn is a jewel in any backyard, but one with thick turf practically begs barefoot guests to come out and play. If you are fortunate to have a lush lawn, you could USE IT.  The secret is to use a tough mix of bluegrass, rye, and fescue grasses will still stand up to the most zealous competitors. A regulation bocce court is long—87.5 feet—and topped with the same clay used on traditional tennis courts. The court Roger built is only two-thirds regulation size, but that's not an issue, as it is used by little players as well as big. Brundage's design was inspired by courts in Boston's (one of our favorite cities in Nth America) North End, where Italian-Americans play into the evening under the park lights.Keep playing after dark with commonsense landscape lighting, including remote landscape lighting which you can control from your smartphone.