Benefits of using a Landscape Lighting Professional
V.I.P. Home & Yard installs architectural and landscape lighting to enhance your property and architectural accents.
While small low voltage or solar systems can be a do-it-yourself project, larger systems should be installed by a landscape lighting professional.  When choosing a company to install your landscape lighting, there are several things you should expect: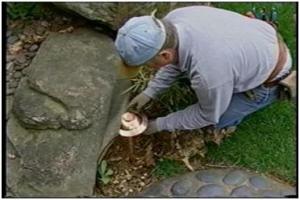 Professional;
Make sure the lighting professional you choose specializes in landscape lighting, and isn't someone who just does it on the side. The owner of V.I.P. Home & Yard has attended intensive courses provided by Landscape Ontario and the Original Equipment manufacturer. Believe it or not, electricians are usually not experts in outdoor landscape lighting.  We do use the expertise of electrical contractor for propert installation of GFI.
We listen attentively to what your desires are, and then design and ultimately a lighting plan is proposed.  Ask for a full night time demonstration! We usually light up key accent features to get a fully imagined sense of what can be accomplished. There are different light colors which work for different landscape colors. For example we use a cooler light intensity for Blue Spruce.
Quality and Warranty
Our fixtures are top-of-the-line, and come with at least a 4 year warranty. The fixtures we source are industry leading contractor commercial grade. For that reason we offer a 4 year warranty of the fixtures and stand behind them.
Our low voltage transformers are multi-tap, allowing the voltages to be adjusted so that every fixture is between 10.5-11.5 volts for an even look, and  have a lifetime warranty.  All bulbs come with a two year warranty.  Ask how many lights per wire run for a low voltage system the contractor uses (ask to see a calculation sheet to ensure that the run is not over-loaded).  Does the system come with just the basic dial timer, or does the system come with lighting control automation? We offer the basis timers and a IPAD / smartphone controller for the discerning customer who wants complete control through smart device.
Value.
Does the professional show up on time?
Does they return your calls promptly?
Do the installers and service people dress professionally?
Are the installers affiliated with trade organizations and a commercial partner/supplier for lights?
Make sure that the company offers an annual maintenance plan to keep your system in peak condition!
Does landscaper wear safety equipment on job site (ask to see a safety policy). Ask to see liability insurance certificate, WSIB, training, designations and references.